OUTER
How would you like to go on a spaceventure?

Play as 72H, an adventurer who's exploring the furthest reaches of deep space.
Your goal is to get as far as you can into the depths of space, balancing fuel and money, and researching ship improvements. And, of course, learning more about your surroundings with your trusty scanner, Gert.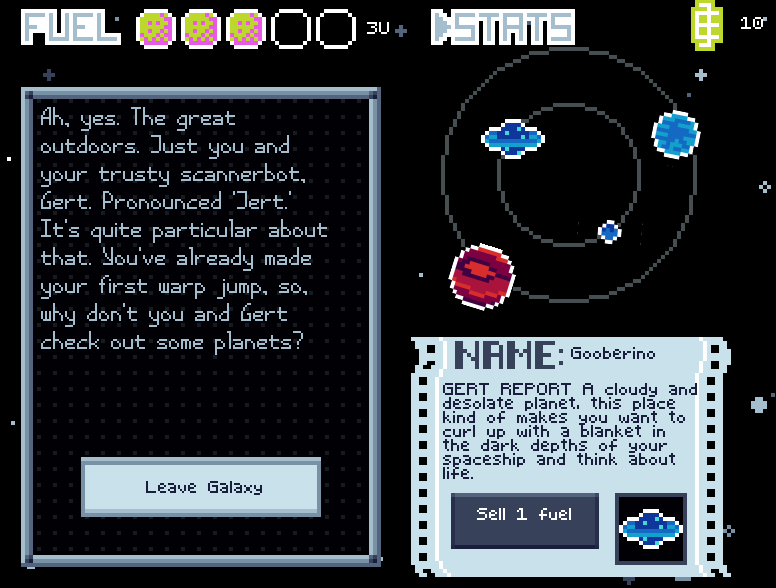 Outer is a randomly-generated point-and-click sort of adventure, with lovingly handmade pixel art and lovingly mouth-created sound effects. It's made using Love2D.
Once you've played, share your score! I have literally no idea how high one can score.
Implementation
IDE: ZeroBraneStudio
Engine: Love2D
Music: Medley
Art: Pixaki
Sound Effects: Voice Recorder
Notes
I'm having lots of difficulty getting a mac .app file working, but I developed this on a mac so rest assured it's coming! In the meantime, mac users who have Love2D on their computers are welcome to use the .love file included on my itch.io page to play.
Download
Comments
Log in with itch.io to leave a comment.
This was a nice short game, there were some awesome planet/galaxy pixel art designs and the descriptions were funny(didn't read some of them though, sorry Jert). This was the first game I played on itch.io and it's cool I get to play so many games for free. Thank you kristinamay for sharing, you probably put a lot of time into this! I managed to reach the last level of the game and finished with a score of 127.25. Thanks again, and have a great day if you're reading this!